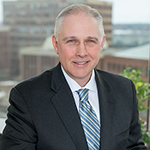 Troy Malbon '89
Major at MMA: Marine Engineering Technology
Extracurricular involvement while at MMA: Varsity Football – 4 years
Employer: UBS Financial Services
Where has your career taken you since graduation?
Directly after graduation in 1989 I went to work for Bath Iron Works as a Production Planner on the Arleigh Burke, which was the lead ship in her class. My primary function was to schedule the loading of major equipment and machinery throughout different phases of construction.
After about two years at BIW I was offered a Third Engineer's position sailing on oil tankers for Sun Transport out of Marcus Hook, PA. I sailed on all four of their vessels: the Philadelphia Sun, New York Sun, Tropic Sun, and Texas Sun.
After five years of shipping, I had worked my way to first assistant engineer, but by then Sun Transport was out of business and so I decided to pursue a "shore-side" career. I worked a short while for Saco Defense in Saco, Maine where I was hired as a supervisor in the final assembly of the Desert Eagle .50 caliber semi-auto handgun.
I then moved on to a technical sales position with Nalco Chemical out of Naperville, Illinois. My primary responsibility was selling chemical treatment products and delivery systems for boilers, cooling towers and waste treatment which also included technical service. It was a great experience; I learned a lot and had the opportunity to work with many MMA graduates at various power plants, paper mills and manufacturing facilities throughout Maine.
After a couple of years in industrial chemical sales I had the opportunity to go back to Bath Iron Works where I became a section manager in the engineering division. I managed a group of about fifteen planners where we created detailed work schedules for major ship upgrades. While at BIW I went back to school earning a Master of Business Administration. It was during that course of study that I decided I wanted to pursue a career in financial services. Specifically, I was interested in a career where I could achieve more professional fulfillment and have a direct positive impact on the lives of business owners, individuals and families. I made the transition in 2005, building a financial service practice from scratch. It has proven to be one of the most challenging yet rewarding experiences of my professional career.
What is your current title and what are your responsibilities?
My title is Financial Advisor. My responsibilities are to answer important financial questions and solve financial problems for my clients.
What piece of advice would you give to a student going into your field?
If you're interested in becoming a financial advisor, my best advice would be to seek out opportunities where you could join an already well-established financial services practice. In that way, you'll have an opportunity to learn how to grow and manage a practice under the tutelage of an established advisor or team. If you must start from scratch don't get discouraged. Rejection will become part of your daily life and you have to always remember it's not personal. You'll be successful if you can overcome that fear of rejection. Of course, this is true with almost any career.
How did the MMA experience prepare you for both your prior positions and your current career focus?
Maine Maritime Academy helped me build confidence and discipline. It gave me confidence in knowing that if I applied myself I could handle the heavy workload and high expectations that the faculty, administration, and industry had set for us.
What are your goals for the future?
My goals for the future are to continue to grow my financial services practice by being a trusted resource for existing and prospective clients, and to one day bring new advisors onto my team to carry on and continue to grow the practice long after I retire.