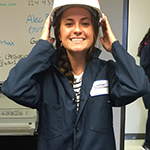 Victoria Cooper '17
Major at MMA: International Business & Logistics
Extracurricular involvement while at MMA: Women's Soccer, Women's Lacrosse, SBLA
Employer: Strategic Maintenance Solutions, Inc. (SMS)
Where has your career taken you since graduation?
Directly after graduation, I started working for SMS in the Gorham, Maine office. I travel quite a bit in this position. I've already been to Raleigh, NC three times to work with our client, FujiFilm Diosynth Biotechnologies, and I just got back from Portsmouth, NH where we work with a powerplant, Newington Energy.
What is your current title and what are your responsibilities?
I am currently a consultant. I do a lot of the behind-the-curtain work for our projects. I download our software and configure it during the downloading process so that it works properly. Then, I meet with our clients to construct the software to fit their needs and upload their data.
What piece of advice would you give to a student going into your field?
Don't be shy. Try new things. You never know what field you might like. Also, be ambitious and involved while at school. Once you get into the real world, your time will be focused around your career.
How did the MMA experience prepare you for both your prior positions and your current career focus?
The IBL courses I took definitely prepared me to get started in my career. However, it is only after you work in a position (or go out and experience one through a co-op or internship) that you truly begin to feel confident with it.
What are your goals for the future?
I just want to see myself progress in all aspects of my life whether that be advance in the company that I currently work for, or take new positions elsewhere. I think people are always afraid to do that, but we're so young right out of college and we need to take those chances to find our ultimate happiness.