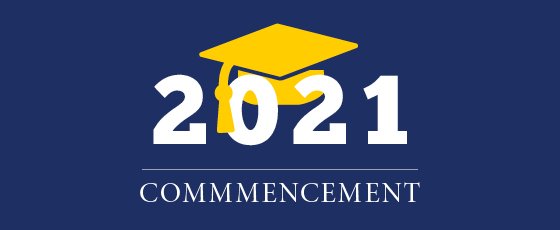 Congratulations, Class of 2021!
We hope you feel great pride in having reached this important milestone. You have accomplished the many goals you set when starting your education at Maine Maritime Academy, gained invaluable professional training experiences, and formed lifelong relationships along the way.
This year's celebration activities will look different than they have in the past, but we look forward to marking the occasion with you in unique and memorable ways.
Commencement Ceremony | April 8, 2021 | 6:30 p.m. (ET)
This year's Commencement Ceremony will be held on April 8 at 6:30 p.m. in the Field House. In an effort to protect our community, attendance at this event will be limited. Only students, faculty, staff, and administration will be present.
However, the event will be live-streamed on our website so friends and family can participate remotely.
Commencement marks the culmination of years of hard work, dedication, and perseverance. Despite some slight changes to accommodate social distancing and safety protocols, we will bring together the traditional elements of pomp and circumstance to create a ceremony that you and your loved ones can enjoy, whether in-person or at a distance.
Additional details will be posted to this page and shared via email and social media as the event nears.
We look forward to celebrating with you!
Program
The Seventy-eighth Commencement
Thursday, the Eighth of April | 6:30 p.m.
Academic Procession
Marshal: Captain Samuel Teel '77
Professor of Marine Transportation and Nautical Science
Welcome
Keith M. Williamson, Ph.D.
Vice President for Academic Affairs and Provost
Color Guard
Colors presented by
MIDN Esteban Garcia | MIDN Raymond Horne | MIDN Grady Reardon
MIDN Wolfgang Redman | MIDN Christian Shepard | MIDN Nicholas Vaccaro
National Anthem
MIDN Catherine Cornell | MIDN Patrick McEneaney
MIDN Sara Stentardo | MIDN Tristan Walker
Moment of Reflection
Captain Samuel Teel '77
President's Greeting
President William J. Brennan, Ph.D.
Trustee's Greeting
Earle A. Cianchette '77
Chair of the Board of Trustees
Administration of Oath
United States Merchant Marine License
Captain Brian J. Lefebvre
Commander, U.S. Coast Guard Sector Northern New England
Message from MARAD
Lucinda Lessley
Deputy Administrator of the Maritime Administration
Introduction of Commencement Speaker
President William J. Brennan, Ph.D.
Commencement Speaker
Retired US Army Staff Sergeant Travis Mills
Conferral of Degrees
Master of Science | Associate of Science | Bachelor of Science
Musical selections by the George Stevens Academy Jazz Band and Jazz Combos conducted by Steven Orlofsky
Commencement Speaker
Travis Mills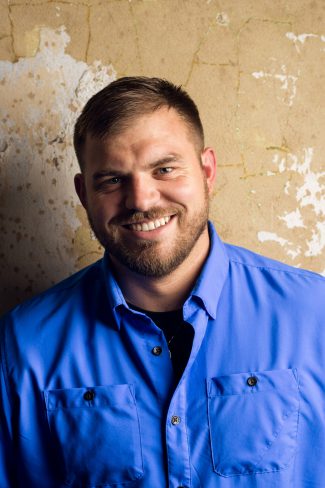 Retired United States Army Staff Sergeant Travis Mills of the 82nd Airborne is a recalibrated warrior, motivational speaker, actor, author and an advocate for veterans and amputees. Travis's New York Times bestselling memoir, Tough as They Come, is currently available on sale in bookstores everywhere. Despite losing portions of both arms and legs from an IED while on active duty in Afghanistan, Travis continues to overcome life's challenges, breaking physical barriers and defying odds. Travis lives by his motto:
"Never give up. Never quit."
On April 10, 2012, United States Army Staff Sergeant Travis Mills of the 82nd Airborne was critically injured on his third tour of duty in Afghanistan by an IED (improvised explosive device) while on patrol, losing portions of both legs and both arms. He is one of only five quadruple amputees from the wars in Iraq and Afghanistan to survive his injuries.
Thanks to his amazing strength, courage, an incredible will to live, the heroic actions of the men in his unit, the prayers of thousands, and all the healthcare providers at the Walter Reed Army Medical Center, near Washington D.C., Travis remains on the road to recovery. Every day is a battle, but Travis continues to astound friends and family alike with his progress and with his amazing spirit.
In September 2013, Travis and his wife Kelsey founded the Travis Mills Foundation, a nonprofit organization, formed to benefit and assist post 9/11 veterans who have been injured in active duty or as a result of their service to our nation. The veteran and their families receive an all-inclusive, all-expenses paid, barrier-free vacation to Maine where they participate in adaptive activities, bond with other veteran families, and enjoy much-needed rest and relaxation in Maine's great outdoors.
The Travis Mills Group LLC was started shortly after, where Travis consults with and speaks to companies and organizations nationwide inspiring all to overcome life's challenges and adversity.
Travis's story has been featured on local and national news including Fox News' Happening Now with Jenna Lee, The O'Reilly Factor with Bill O'Reilly, CNN with Barbara Starr, and The Ellen DeGeneres Show.
Who can attend the commencement ceremony?
Only students, faculty, staff, and administration will attend this event in-person. All participants will be masked and socially distanced. The ceremony will be live-streamed on our website so friends and family can participate remotely.
Why did plans change?
Our plans for this year's celebration have evolved as a result of discussions that were held with students and families, and due to recent changes in public health guidance that were announced by Governor Mills on March 5.
We are pleased to offer an in-person celebration to our students, honoring their deeply-held desire to celebrate their impressive accomplishments with their peers.
If I cannot come to campus, how can I celebrate my graduate?
We encourage friends and families to plan safe, celebratory gatherings for their graduates during the live-stream event on April 8, or in the days after they return home from Castine.
We will create customizable lawn signs and provide you with a commencement e-ticket to share with friends and family.