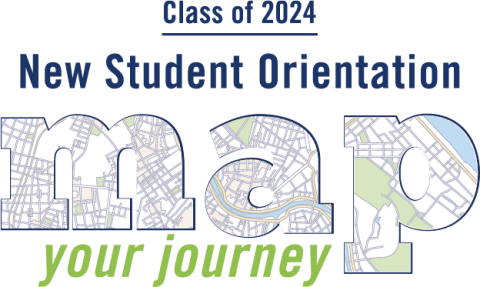 Welcome, Class of 2024!
We are thrilled to welcome you to Maine Maritime Academy and look forward to meeting you in person soon. Your student experience will begin with a New Student Orientation kick off during a live Zoom session on May 29th at 7:00 p.m.
Following the kick off, we'll have a summer full of online opportunities for you "meet" our incredible faculty, dedicated staff, and current students. All NSO updates will be included here so keep an eye on this page for new information as it is added.
Throughout June, July, and August you will be able to participate in Zoom sessions that cover just about every aspect of life at the Academy. There is so much that we want to share with you and we'll unveil what we have planned during the kick off.
We're looking forward to helping you discover all that MMA has to offer to help you register for fall classes!
Student Road Map
During New Student Orientation (NSO), you will complete a brief course in MMA's Learning Management System, Canvas. The course will provide you with important information that you need to know before coming to MMA.
NSO will also help you learn to navigate the MyStudentLife gateway for housing, meal plans, and roommate selections. You will learn to use the MyMMA portal for paying your student bills, completing your health insurance option, and registering for classes. And finally, you will also learn about MMA's mobile app – an easy tool for registering for classes and so much more!
Tentative Report Dates
Your arrival date on campus will depend on your major and/or extracurricular activities.
Regimental new students will arrive for Regimental Preparatory Training (RPT) on Thursday, August 20, 2020.
Non-Regimental, or Independent, new students will arrive for the Independent Experience (IndEx) on Friday, August 28, 2020.
Student-athletes who play a fall sport will begin their journey at MMA at various dates based on their team's schedule. These dates have not yet been announced but we will share them with you as soon as we are able.
If you have questions about when to arrive, please be in touch!
Regimental Student Resources
Welcome aboard Midshipmen Under Guidance (MUGS)! We are proud to welcome you to Maine Maritime Academy and look forward to getting to know you over the course of your New Student Orientation. If you have questions about the following resources, please contact Anne Kowalski, CWO4, at anne.kowalski@mma.edu or 207-326-2250.
Questions about accessibility or requests for accommodations can be directed to MMA's Accessibility Services at 207-326-2489 or
accessibility.services@mma.edu
.