Brady MacLeod '17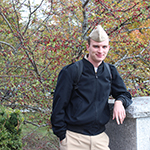 Brady MacLeod '17
Hometown: Bucksport, Maine
Major: Marine Systems Engineering – 5 year
Extracurricular involvement: Fire Fighting TA, Admissions Student Worker, SNAME

What has been your favorite class at MMA?
AC & Refrigeration is my favorite class so far. It is very hands-on and practical for the industry I want to work in. We used systems in lab just like we would perform maintenance on an active ship.
What do you love about the MMA community?
The classes are small, making the community feel more involved. As a student, you know everyone and everyone helps one another.
What are your hopes for the future?
After graduation, I'd like to ship out as a 3rd Assistant Engineer.
Why did you pick MMA?
The labs are very hands-on. We don't just sit in a class and learn concepts, we actually get to do the work in classes.
What would you say to a prospective MMA student?
Stay focused, be active, and take advantage of every learning opportunity you have.