Briana Obshatkin '17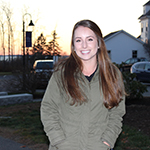 Briana Obshatkin '17
Hometown: Dedham, Massachusetts
Major: Marine Science
Extracurricular involvement: Women's Varsity Soccer, Women's Varsity Lacrosse

What has been your favorite class at MMA?
My favorite class that I've taken at MMA is definitely Marine Zoology. Even though it wasn't in the core Marine Science curriculum, I learned so much from Professor McKenna because he knew how to teach difficult concepts in a simple way.
What do you love about the MMA community?
My favorite part about the MMA community is that all the professors and faculty are willing to help you. I attended a small high school and wanted that same "small town" feeling when I went to college. When I enrolled at MMA I knew the size of the school was what I wanted, but I didn't expect to have such a relationship with my professors and even other faculty at the school. Everyone is willing to help you in any way they can, and all you have to do is reach out.
Playing soccer and lacrosse has definitely helped me realize this because you are really representing your school when you're on a field or a court playing for it. I have never felt so proud to be a part of something because I know that the school and people I'm representing are positive and influential in a variety of work forces.
What are your hopes for the future?
My hopes for the future are to have a financially comfortable job (aren't we all hoping for that?) and to love what I'm doing so much that I don't feel like I'm working at all. I would love to be a part of a company that really embodies the importance of taking care of our environment. There are so many people who are unaware of the ocean, specifically, and how important it is, by no fault of their own. I believe that by being a part of something that can educate the public (children, adolescents, adults, everyone!), I can make a difference by providing knowledge in a personable way. The problem, after all, isn't usually about the information being given, but how it's delivered. I can't wait to graduate and make an impact on the science community!
Why did you pick MMA?
I chose MMA because I knew the major and curriculum would be right for me. My high school was very hands-on and fieldwork oriented, so I knew that working in those environments was what would benefit me the most. My experiences here on campus before I was enrolled were also very positive and compelling. Hugh Porter led my tour during the winter before I graduated high school, and his enthusiasm for MMA was just incorrigible. I knew that if someone was that positive about a school that there had to be a good reason behind it.
What would you say to a prospective MMA student?
The most important thing I learned through the entire application and enrollment process is that nothing is the end of the world. There is so much pressure to make the right decision when you're coming out of high school that it feels like it's a decision that is going to make or break you. You really do have to weigh all sides of the decision; being away from home, making new friends, being in an environment you're not familiar with; things that really get you out of your comfort zone.
When you come to MMA for a tour, keep an open mind and take everything in. You're going to hear both positive and negative opinions about this school, as you are every other school you apply to. What's most important is how much you love the positive things you're hearing about, because those are the things that are going to make the difference for you and really give you motivation when you're bogged down with inevitable schoolwork. As a student at MMA, I can tell you firsthand that it is by no means an easy institution or the school for everyone. That being said, it is completely what you make it, and the faculty and professors will give you everything you need to succeed. There will never be a day where you feel like you don't have the tools you need to do well because there are always people willing to help you; staff, students, or other people in the Castine community. It truly is a great place to be, except maybe in the winters when it gets a little cold!