Riley MacLeod '20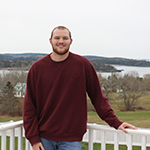 Riley MacLeod '20
Hometown: Bucksport, Maine
Major: International Business & Logistics
Extracurricular involvement: Men's Varsity Basketball


What has been your favorite class at MMA?
Management Communications was my favorite class because we learned how to make an effective resume and how to get a point across in a professional business document. These are skills I will use throughout my life. We also learned how to write a professional project proposal. The class covered a wide variety of ways to communicate and I took a lot away from it.
What do you love about the MMA community?
I love how it feels like my small home town. The class sizes are small so help is always available, and the teacher actually knows your name. Everyone here is willing to help out as long as you ask.
What are your hopes for the future?
I hope to get a job in my field of study and to be able to give back to the school.
Why did you pick MMA?
I picked MMA because it was close to home, and I have an older sibling here. The job placement of the school is terrific and the education they offer is like no other.
What would you say to a prospective MMA student?
There hasn't been a time when I wished I had gone to a different school. There are so many unique qualities about MMA. I'm happy with my decision to come here and I'm sure you will be too.