Maine Maritime Academy to Host Second Annual Climate Symposium on March 27
Participants to Include Senator Angus King (ME) and leaders in the Maritime Industry
CASTINE, Maine – Maine Maritime Academy (MMA) one of the United States' foremost maritime universities offering degrees in engineering, science, management, and transportation will host the second annual Maritime Academy Climate Symposium (MACS) on March 27, 2023 from 3-6pm. This year's theme is Decarbonizing the Maritime Industry – Future Challenges & Opportunities.
The Maritime Academy Climate Symposium (MACS) is a student-driven event designed to spark critical discourse at maritime academies across the country. The goals of this event include providing knowledge on the ways in which climate change will impact future job prospects and infrastructure, inspiring hope in climate change resilience, and shedding light on opportunities for growth.
"Maine Maritime Academy is well poised to lead the conversation on innovation in the maritime industry and decarbonization is one of the chief areas of change. I am proud of our students who have shown the leadership in producing this event for the second year and have assembled this impressive knowledge base for our community" said Jerry S. Paul, President, Maine Maritime Academy.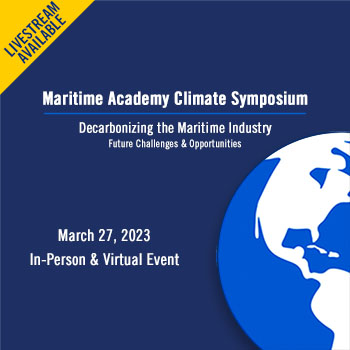 The Symposium will feature short talks by experts representing Blue Sky Maritime Coalition, the National Renewable Energy Lab, American Bureau of Shipping, Siemans Energy, Caterpillar Marine, and the US Senate. A panel discussion on emerging technology, challenges, and opportunities of decarbonizing the maritime industry will follow the talks. The event is sponsored by Maine Maritime Academy and Crowley Energy, with a reception to follow sponsored by MMA and Siemens Energy.
Robert Jacobs, class of 2023, Marine Engineering Technology major, member of the Environmental Action Club, and student leader of MACS remarked, "This event exemplifies the resilience of Maine Maritime and the maritime industry as a whole, I'm proud to be part of a group with such ability to create solutions to daunting issues like the climate crisis."
The speakers bring a broad range of knowledge across the maritime industry and will contribute their perspectives to the conversation. The keynote presentation will be given by Megan O'Leary from the Blue Sky Maritime Coalition.
"We are thrilled to have experts representing non-profit, research, government, regulatory, and industry perspectives on this important issue: decarbonizing the maritime industry. This topic was selected by students at MMA who are acutely aware that climate change and decarbonization efforts will impact their future careers; they want to learn more, and to spark a dialogue within their community and across other maritime academies," says Kerry Whittaker, Assistant Professor of Coastal and Marine Environmental Science, and member of the MACS planning team.
"Students and faculty will be able to come away from the Climate Symposium with a broadened perspective on the climate crisis and the marine industry's response, this understanding will give students the tools to lead the industry into a new age of technology and efficiency," says Jacobs.
The event will be held both in Delano Auditorium on the Maine Maritime Academy campus in Castine, Maine, and virtually between 3:00 pm and 6:00 pm on Monday, March 27, 2023. More information, in-person attendance registration, and virtual access is available at macs.mainemaritime.edu.
About Maine Maritime Academy
Maine Maritime Academy is a co-educational, public college on the coast of Maine offering 22 programs of study in engineering, management, science, and transportation to promote the maritime interests of the United States. The college serves approximately 950 undergraduate and graduate students in career-oriented degree programs. The job placement rate for MMA graduates is approximately 90 percent within 90 days of graduation with very high paying jobs. The college is consistently recognized for providing a high-value education by organizations such as the Brookings Institution, U.S. News and World Report, and Money Magazine. The 2022 Report by Georgetown University ranked MMA #1 among all public colleges for return on investment for low-income students at public bachelor's degree institutions. For more information, visit mainemaritime.edu.