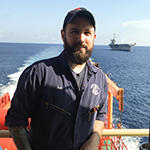 Joshua Shaw '12
Major at MMA: Vessel Operations and Technology
Extracurricular involvement while at MMA: Supplemental Seamanship Launch Instructor & Power Crew
Employer: Edison Chouest Offshore
Where has your career taken you since graduation?
Since graduating in 2012 I have been with Edison Chouest Offshore. I started on deck, working as an AB Rigger, then Mate/DPO in the bridge, and I now work as a Chief Mate/Senior DPO. I've worked predominately out of the Gulf of Mexico, supplying rigs with their needs. However I am now working out of Guyana and Trinidad, under contract with Exxon Mobile. In addition, I was also provided with "a once in a lifetime opportunity" to participate in the towing of the EX-USS Independence CV-62 (a decommissioned USN Aircraft Carrier) around South America, via Strait of Magellan. The 80-day, 16,086 nautical mile voyage started from Bremerton Naval Shipyard in Washington and ended in Brownsville. Without a doubt, this was the highlight of my career so far.
What is your current title and what are your responsibilities?
I now am currently a Chief Mate onboard a state-of-the-art 312 foot Platform Supply Vessel (PSV). My responsibilities include but are not limited to, assisting the Master with the management of the vessel and crew, navigation, conducting drills, assigning deck projects, and interfacing with clients.
What piece of advice would you give to a student going into your field?
I've found that my job is more managerial than what I expected prior to graduating. My advice would be to soak up all the leadership classes and training you can while in attendance. Secondly, I spend a decent amount of time at a computer; so taking advanced classes involving the use of computers (i.e. Microsoft Office, Computer repairs, etc.). Being able to work proficiently from a computer will make your job much easier when you get into the field. I've also realized how important those Humanities I/II classes were. Many would say, "What does this have to do with being a ship captain or an engineer?" Well, I can assure you, there is much to take away from some of the lessons you'll learn in those classes. So, learn all you can.
How did the MMA experience prepare you for both your prior positions and your current career focus?
MMA and its hardworking staff and faculty have always provided a culture for success. They made themselves available for extra help. That's what makes the school so great and, in my opinion, is why we graduate and do so well in the industry: hard working Mainers training hardworking men and women. While I was in attendance I participated in "supplemental seaman-ship work-study". This involved teaching other students like myself how to drive boats on MMA's waterfront, and put me in training-mode from the start, which has benefited me in industry.
What are your goals for the future?
I'd like to continue to work in the industry, and to set myself up for an enjoyable retirement. I've advanced my license to Master of Unlimited Tonnage Upon Oceans, which was a career goal and satisfying to have reached. I'll be interested to see what kind of doors open up for me now. I've also always wanted to become a ship pilot, so this is always in my sights. I live in the moment these days and enjoy things as they come. Life is good.