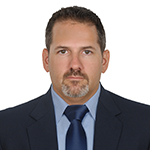 Jeff Ivory '95
Major at MMA: Marine Engineering Technology
Extracurricular involvement while at MMA: 3rd Class Striker
Employer: Transocean
Where has your career taken you since graduation?
I joined Global Marine drilling in 1995, which through merger became part of Global Santa Fe in 2001, and part of Transocean in 2007. I have worked offshore in the Gulf of Mexico, West Africa, and Canada. I have also worked and lived in Canada; Qatar; Egypt; Switzerland; Dubai, UAE; and now Houston, Texas.
What is your current title and what are your responsibilities?
My current title is Director of Operations and Efficiency. I oversee a group of managers who oversee approximately 22 offshore drilling rigs, and I also recently took on the role of managing the company's efficiency improvement efforts.
What piece of advice would you give to a student going into your field?
Work hard, prove your worth, be dependable, and be willing to do more than those around you. Your degree entitles you to nothing more than the same opportunity as everyone else, but the fact that you have it bestows on you a responsibility to demonstrate its worth.
How did the MMA experience prepare you for both your prior positions and your current career focus?
MMA is an excellent balance of academia and the instillation of hard-working values. Not many institutions can make that same claim. In today's world MMA grads can differentiate themselves from others by conducting themselves the way they learned to in Castine.
What are your goals for the future?
I plan to achieve a Vice President level position within my organization and potentially one day return to the academy in a teaching capacity.