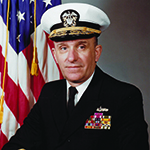 Warren Hamm '49
Major at MMA: Engineering
Extracurricular involvement while at MMA: Mess Deck Master at Arms, Band, Drill Squad
Employer: U.S. Navy Rear Admiral (retired)
Where has your career taken you since graduation?
Since graduation my career has taken me all over the world including Korea and Portugal where I lived for some time. I served as a Rear Admiral of the U.S. Navy, but now I am retired and maintaining a very high profile in the community and state. While on active duty I had four sea commands and four shore commands. As a flag officer, I worked as an operational commander of the Korean Navy and Marine Corps, senior member of the Military Armistice Commission, and Commander of the Atlantic Fleet Amphibious Force (32 ships). I also served as Deputy Commander and Vice Commander of Military Sea Lift Command (163 ships and 10,000 people), with a NATO tour.
What is your current title and what are your responsibilities?
I am retired from the U.S. Navy after serving 41 years and becoming a Rear Admiral. I'm a leader in various community and veteran projects.
What piece of advice would you give to a student going into your field?
Always practice loyalty up and down; never accept anything but the best; lead by example in both civilian and military life; and remember that you can do anything that you set your sights on.
How did the MMA experience prepare you for both your prior positions and your current career focus?
MMA provided the standards and examples of leadership and accountability that assured my success.
What are your goals for the future?
I will continue to set a good example for others to follow and try to make the world better for having been a part of it.