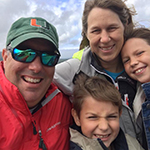 Craig Johnson '91
Major at MMA: Marine Engineering
Extracurricular involvement while at MMA: Sailing, Hockey, Lacrosse, Intramurals
Employer: Flagship Management
Where has your career taken you since graduation?
I began my career at sea with Maersk Lines, followed by Hess Oil where I worked at sea and later ashore as a Technical Superintendent. I held positions in the US and abroad in the Cruise, Shipping, and Offshore areas as my career progressed. I started a new business in 2005 doing Recruitment in the Maritime and Offshore Industry. Flagship now has 3 offices around the world and has placed over 200 Maine graduates during this time. I have also Coached Collegiate Sailing for 20 plus years, with the last 10 years at the University of Miami.
What is your current title and what are your responsibilities?
I am a Partner at Flagship Management, running day to day recruitment and consulting business worldwide. I specialize in Executives and several areas within the industry. I make time each day to speak with new graduates to offer career advice and help them get started in new careers.
What piece of advice would you give to a student going into your field?
I recommend students joining the Maritime field or any other offered by MMA to take the road less traveled. Take difficult or hard internships with possible opportunities down the road. For Mariners, my advice is go to sea if possible. It makes a difference to employers when evaluating candidates for roles in the future.
How did the MMA experience prepare you for both your prior positions and your current career focus?
My experience at MMA was a very positive. It challenged me to manage difficulties, personalities, and to get jobs done. I played many sports while managing my schoolwork, a trend that I still continue. I came back as the Sailing Coach at the school while continuing to ship out. I made friends that will last a lifetime, which I feel has helped me the most since leaving the school. These friendships help propel my business on the basis of a trust that was earned over time.
What are your goals for the future?
My goals are to continue my business, and bring in future leaders who may someday take over the reins. I continue to give back to the school through support for various activities and through funding. I also look for opportunities for MMA and its graduates as we go into the future. I hope one day to return to the Academy and demonstrate my gratitude for all that MMA has done for me in my life.