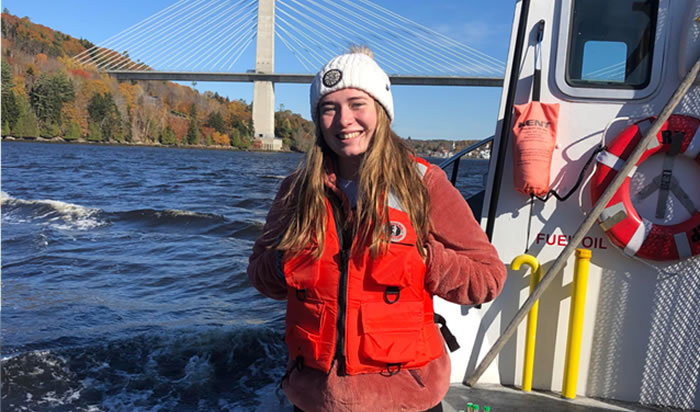 Phoebe Churney '24
Hometown: Brunswick, Maine
Major: Marine Biology/Small Vessel Operations
What has been your favorite class at MMA so far?
So far, my favorite class has been Chemistry II with Professor Friedman. My favorite lab was Intro to Marine Science with Professor Whitney. I loved that many of our labs were out in the field, collecting water samples and phytoplankton that we later analyzed. The final cruise was aboard the R/V Friendship – we went out for a day-long cruise and it was a great way to combine all the knowledge and skills we gained over the course of that semester.
Why did you choose MMA?
I chose Maine Maritime because it is the only school in the country where I can get a degree in Marine Biology, a Coast Guard license to operate vessels up to 200 tons, and accelerate my scuba licenses all at once. I also chose MMA because each class is hands-on. The ability to apply what I learn in class to in the lab is a unique feature of MMA.
Which professor inspires you? Why?
Professor Friedman inspires me to be a better person and student. She is always willing to help us outside of the classroom whether it be for class, lab, or just as someone to talk to. Her passion for teaching and her love of the ocean is one-of-a-kind addition to MMA.
Beyond classes, what is your favorite extracurricular activity you participate in?
Hands down, Bingo. There is nothing better than a Monday night bingo! I also enjoy being a Scuba TA and participating in Yacht Club whenever I can!
What is your dream job?
My dream job is to be a research scientist with a focus on coral reefs and conservation.
What is your favorite place you have traveled in the world? Why?
My favorite place I have traveled would be Bonaire. I fell in love with the culture of the island and the friendliness of the people. Not to mention the biodiversity of the island! The ocean there is simply amazing.
Do you have any advice for incoming students making their decision to attend MMA?
My advice would be to choose a school where you can see yourself succeed in both academics and through extracurriculars. Maine Maritime does an excellent job on both and I couldn't see myself being anywhere else!